WE KNOW FREIGHT.
Whether you have a few trucks or a fleet of 100 …
Industry experience freight factoring for fleet owners. With over 40 combined years of experience working in the trucking industry, we are not just another finance company trying to tap into your world. We live and breath in trucking.
Over the years, we've unloaded trucks, run a truck brokerage, cross-docked freight, dealt with claims and maneuvered through the DOT's long list of regs in the industry. This experience has allowed us the benefit of top-to-bottom industry knowledge. When you partner with us, you will appreciate how our unique industry insight saves you the hassle that you might otherwise experience with opting for a bank loan or other funding source.
INDUSTRY EXPERIENCE FREIGHT FACTORING FOR FLEET OWNERS
Ranked #1 by Truckers Report
Ranked as one of the top freight factoring companies by industry leader, Truckers Report. You can be confident that when you partner with Thunder Funding, you partner with the best. We've served thousands of trucking companies over the years – whether you have 5 trucks or 100, we provide the best freight factoring services for fleet owners!
Designated Account Manager
As a Thunder Client, you'll have a designated account manager you can contact directly for all of your factoring needs. With Thunder's unmatched customer service you'll never have to worry about your funds, we've got you covered!
Back-End Office Support
Stop chasing down brokers for payment and let Thunder handle your billing and collections! We'll provide you with the information you need to better reconcile your books through our 24/7 online account access Client Portal. For your convenience, we also store images like scanned invoices, bills of lading, and customer payments for easy access.
Save at the Pump
The Thunder Carrier Services Fuel Card will not only save you hundreds of dollars monthly per truck, but you'll have full control over your drivers' spending. Keep track of all transactions and set limits on fuel, food, and more. You'll also have access to all of the reports you need in order to file your IFTA taxes.
Find Loads Anytime, Anywhere!
Keep your trucks on the road with our exclusive partner, 123Loadboard. Thunder Clients receive a 30-day FREE trial and discounted pricing to the best load board.
LEARN MORE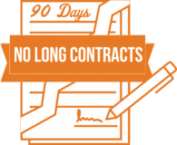 Transparent 90 Day Agreements
Our short-term service agreements are unheard of in the industry! We're not here to tie you down or to trick you with hidden fees and legal jargon. If after 90 days you're not completely satisfied with our service, you're not bound to any long-term commitment.
Thunder Funding has been a great help in the operation of our business. Working with Thunder has allowed us the opportunities of working with customers with longer payment terms that would have otherwise been out of financial reach for our small company. Thunder Funding is a great company, one on one personal service, extremely good customer service, and competitive programs. Thunder Funding will continue to be our business partner in the future.
New to Factoring?
Learn everything you need to know in this handy guide.
TWO CRITICAL WAYS TO ENSURE YOUR SUCCESS AS A FLEET OWNER
Rev Up Your Fleet's Cash Flow With Thunder's Exceptional Back-End Support
As a fleet owner, you've got a lot on your plate and it can be a real juggling act. But don't sweat it,Thunder's got you covered with our back-end office support! We'll provide top-notch support for all your billing and collections needs, think of us as an extra member of your accounting team.

Let's face it, when you're running a 20 truck fleet, you've got tons of invoices to keep track of every month. With everything going on, there's a pretty good chance that some of those invoices might slip through the cracks, costing you money in the long run. Our online portal makes it easy to keep an eye on your account and our collections team will stay on top of every invoice. As your factoring company, Thunder will take care of the back and forth with your brokers and keep the cash flowing so you can continue to grow your business.
Maximize Your Fuel Savings With Our Industry-Leading Fuel Card

As a savvy fleet owner, you're always on the hunt for ways to save big on fuel costs. And that's where Thunder's Fuel Card comes in! With our card, you'll get access to some seriously sweet savings – we're talking on average up to $500 per truck per month! And here's the best part: You can assign a fuel card to each of your drivers, so you'll know exactly how much they're spending and how much they're saving. Plus, you can set limits on how much they can spend, so you're always in control. Trust us, as a fleet owner, you don't want to miss out on Thunder's industry-leading fuel card. It's a no-brainer!
Fuel savings of up to $0.65/gal
Save at 8000+ locations nationwide
Truck maintenance discounts and so much more…
In the short time you have been here, you have really helped to make things run smoothly. You have stuck to our agreement. I really appreciate your willingness to help us out, wherever we needed. It's that kind of flexibility that will help this company grow. Thank you for all your help.
As a fleet owner, waiting for invoices to pay is a drag!
Try Thunder for 90 days today and let Freight Factoring elevate your business!